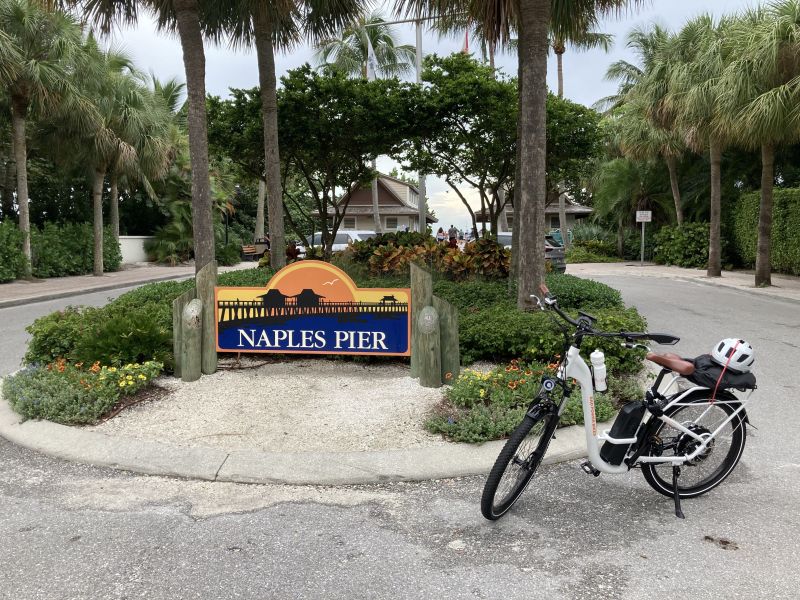 Downtown Naples is packed with so much to see and do within a short distance which makes an electric bike the perfect mode of transportation. Cruising the bike friendly streets allows you to experience the heart of Naples in the most fun and convenient way!
Launch Map
Bike Trails & Points of Interest
There are numerous beach access points in Downtown Naples, most of which have very limited parking options for cars, so you are able to check out so many more beach options by bike. It's easy to avoid the high traffic and busy intersections along US 41 by taking back roads that can get you there faster and safer as well as allow you to see and experience more on the way. Whether you're headed to 5th Ave, 3rd Street, Tin City, Bayfront, Baker Park, or catching sunset at Naples Pier, getting to your chosen destination is half the fun!
5th Avenue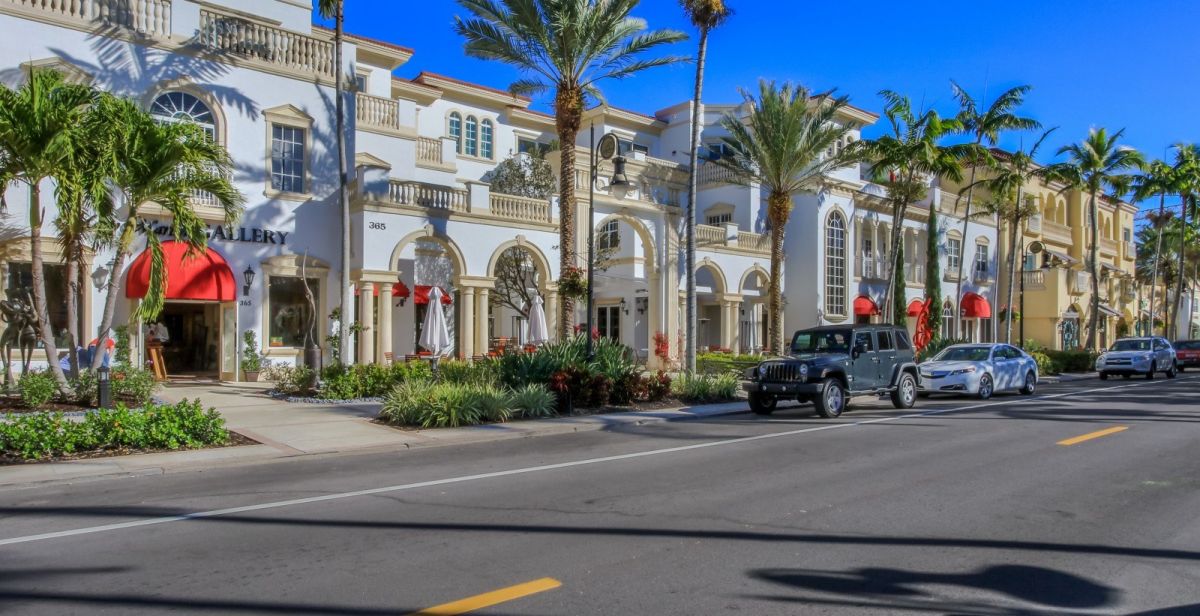 Fifth Avenue South is the heart of downtown Naples and stretches from Tamiami Trail to the Gulf of Mexico. It hosts a unique array of businesses and is considered Naples' hottest shopping spot! The wide variety of cuisine ranging from upscale to casual, will ensure you find whatever you're in the mood for. There are bike racks scattered up and down the street on both sides and you can easily cruise around without the hassle of parking. Continue the ride to then end of the road and you'll reach the public beach, which, like many in the downtown area have very limited parking available for cars, but plenty of space on the bike racks!

Third Street South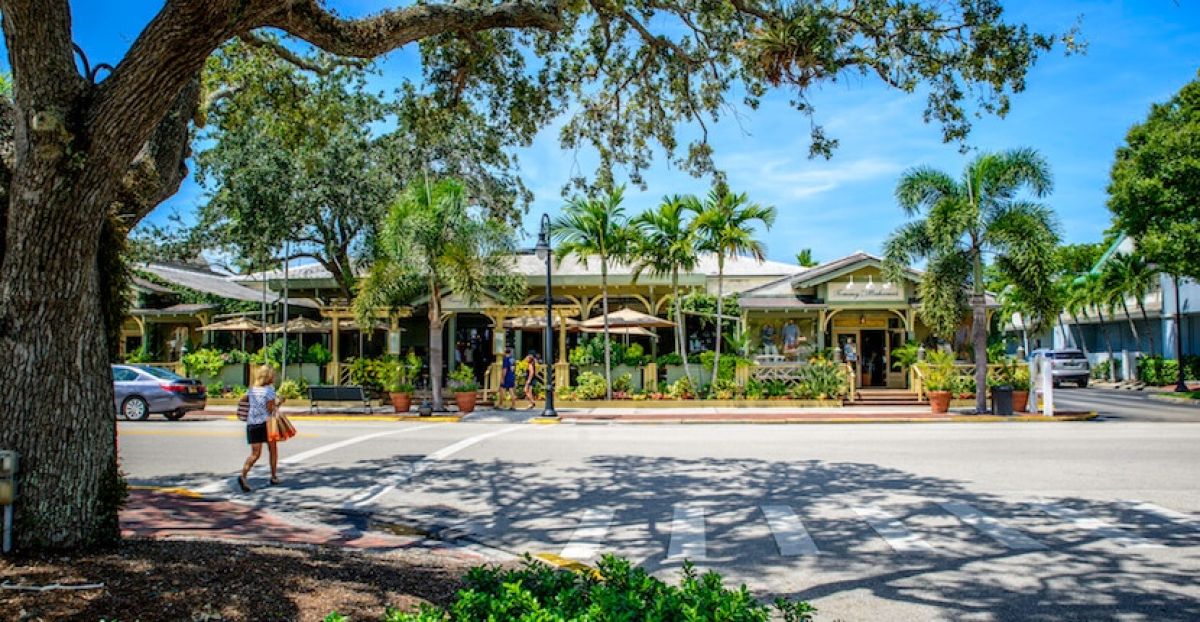 Enjoy the charm of Third Street which boasts a variety of apparel shops, gift boutiques, restaurants and art galleries. Third Street South intersects with Fifth Avenue South making the cruise from one hot spot to the next easy and enjoyable! From Third Street, you can either head West on 12th Ave S to check out the Pier located just blocks away, or you can head East on 12th Ave and continue to check out Crayton Cove.

Beaches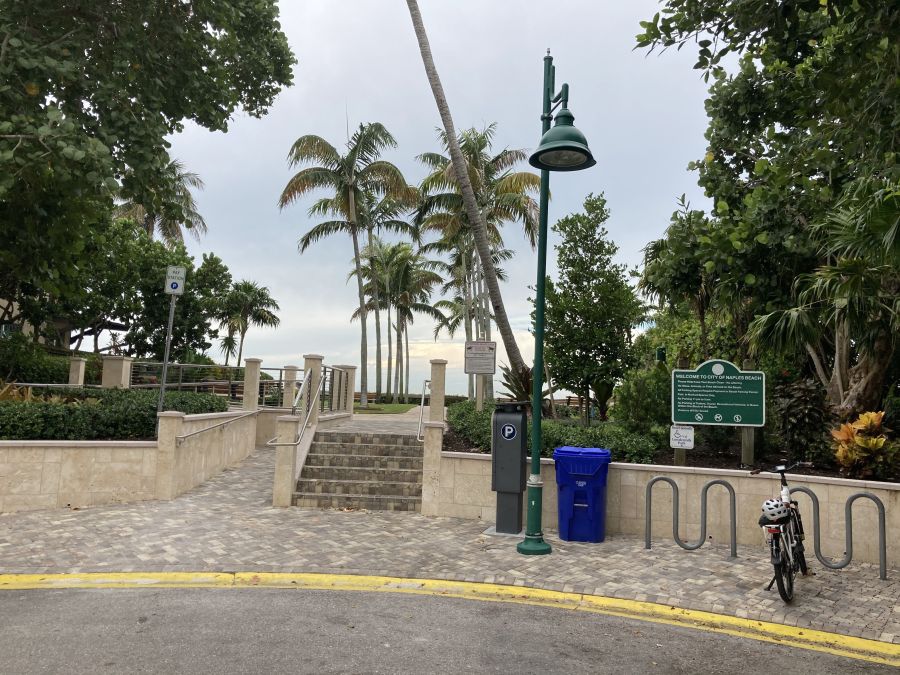 Naples City Beaches stretch seven miles of pure white sand edging the waters of the Gulf of Mexico. There are beach access points that line Gulf Shore Blvd to Twenty-First Avenue South. Beach parking with a bike is hassle free and gives you the flexibility to cruise from beach to beach to check them all out! If facilities and concessions are important, you'll want to either cruise north on Gulf Shore Blvd to Lowdermilk Park, or stay in the heart of downtown Naples and visit the Pier located at the end of 12 Avenue South.
Naples Pier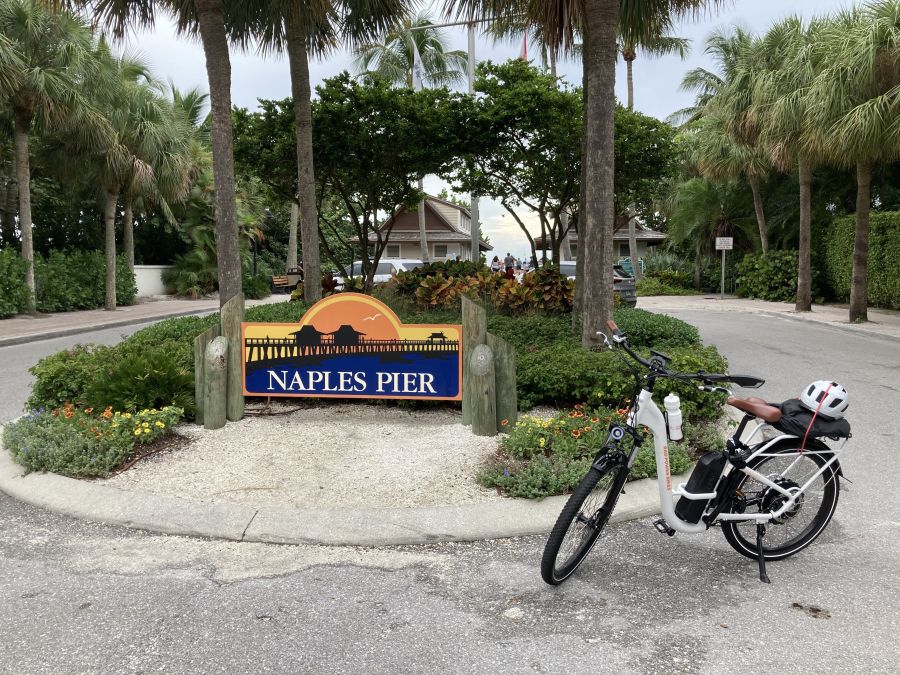 Naples Pier is located on the Gulf of Mexico at the West end of 12th Avenue South. It's a must see and a favorite spot for locals and visitors alike! The Pier offers restrooms, showers, a concession stand with covered eating area, and beach supplies for your enjoyment. It's a popular fishing spot, so dolphin sightings are a regular occurrence!
Gulf Shore Blvd S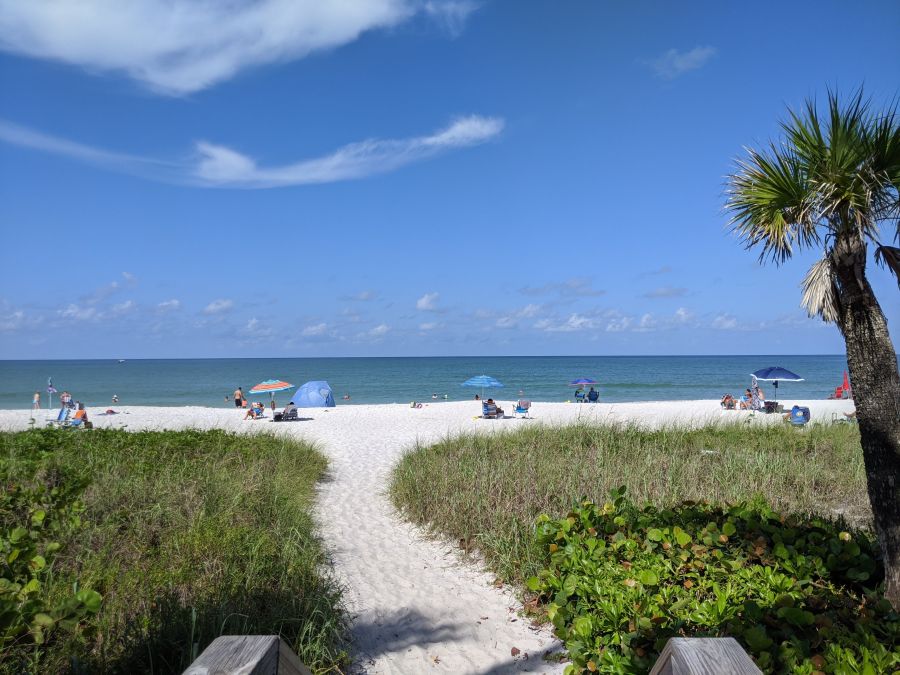 Gulf Shore Blvd South spans from Central Avenue to 20th Avenue South which will turn into Gordon Drive. You'll be able to use bike lanes almost the entire way and can stop at any of the multitude of beaches for a break along the way. After Central Avenue, Gulf Shore changes from South to North and hits a dead end at Mooring Line Drive. If you want to continue the ride, just turn right over the bridge and take a left at Crayton to continue North. At Harbor Drive, the next light you hit on Crayton, turn West again to go over another bridge and continue North. At Park Shore Drive is Venetian Village. Have a nice lunch and turn around or continue North on Gulf Shore until it Dead Ends at Seagate - which is only another half mile or so north. The view of the inland bay is gorgeous from the bridges. The total ride would be about 15 miles or so, but on an electric bike, it's a breeze and is well worth it.
Gordon Drive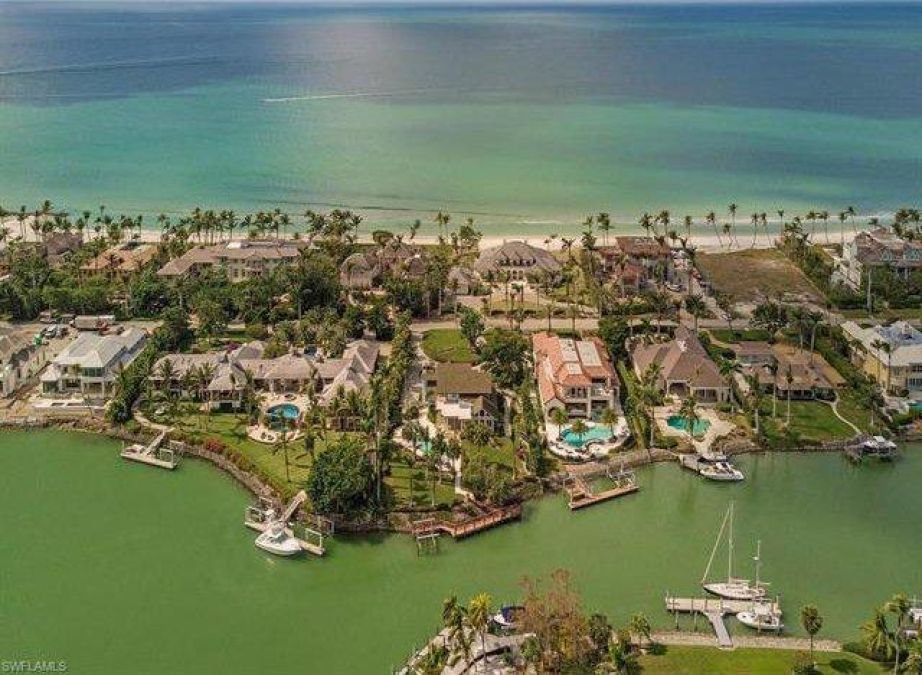 Gordon Drive is your entrance to Port Royal, one of the most prestigious communities in the world. This community of Gulf of Mexico beach front estates and Naples Bay front and canal access lots is notorious for its lavish displays of wealth and some of the finest custom built luxury homes in Naples. Bicycling along Gordon Road is the kind of low-stress, low-traffic biking that allows you to slow down and enjoy the ride while marveling at the luxurious beachfront homes. The road is smooth and wide enough for a well-marked bike lane and since it's an exclusive residential neighborhood, it does not generate much traffic.
Tin City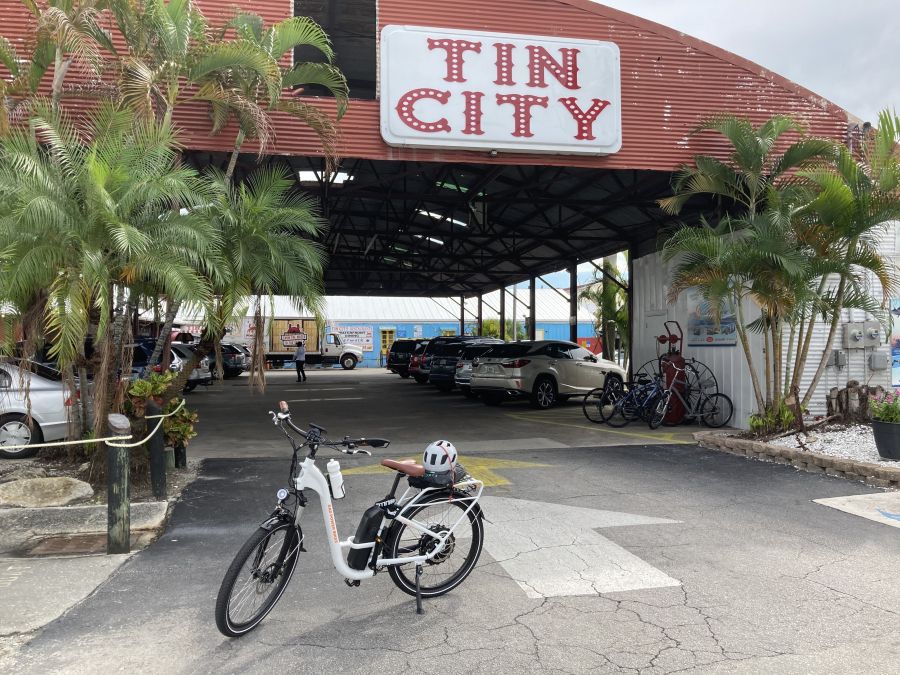 Tin City is a must see in the area with it's quaint boardwalks and bayfront shops and eateries overlooking the docks of Naples Bay. It's a unique experience that you won't find anywhere else with locally-owned shops where you can find one-of-a-kind souvenirs and local products, as well as waterfront dining, and water adventure sports available. Tin City is on the corner of U.S 41 where it meets Goodlette Road at the Gordon River bridge. If coming from the heart of Naples, it's best to avoid the high traffic areas on the main road intersections by taking 6th Ave S to 12th Street S where you'll come in through the back of Tin City and see a red wheel shaped bike rack in the small covered parking area.
Crayton Cove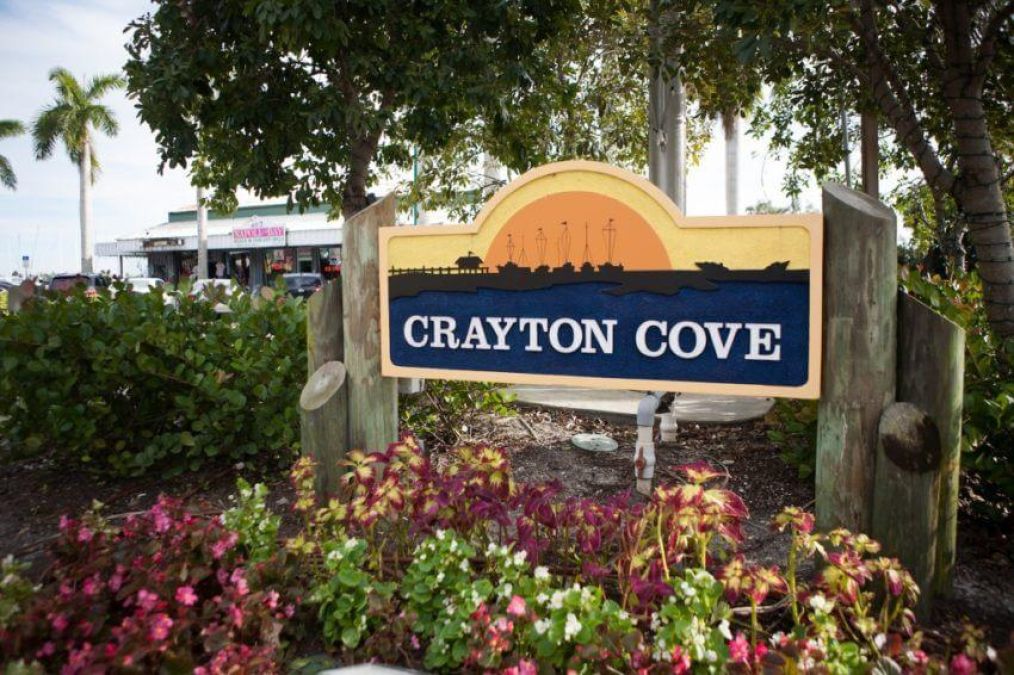 Crayton Cove is located on 12th Avenue South and 8th Street South. You'll find Naples City Dock, the famous Dock Restaurant, Naples Ships Store, The Cove Inn, and a variety of shops and eateries to enjoy.
Cambier Park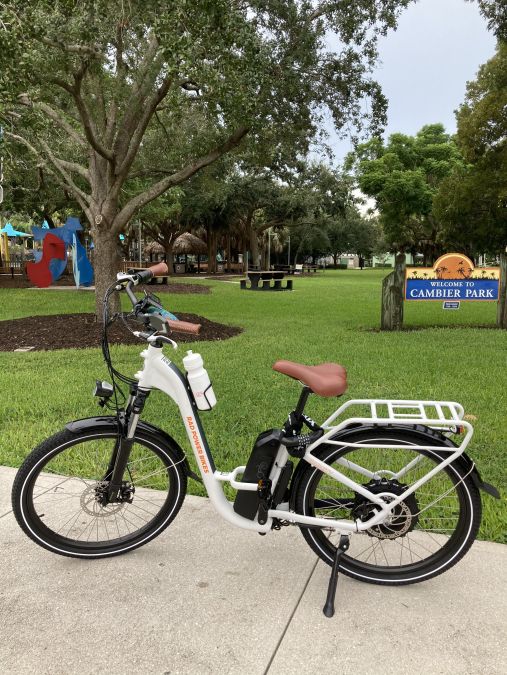 Cambier Park is located right in the heart of downtown Naples, just one block South of the prestigious 5th Avenue South. Its like the Central Park of Downtown Naples and forms a square that can be accessed by Cambier Park way, 8th Street S, Park Street, or 8th Avenue S. There are grassy play areas and a community-built children's playground, shuffleboard, covered pavilions, picnic areas, and award winning Tennis facility.
Baker Park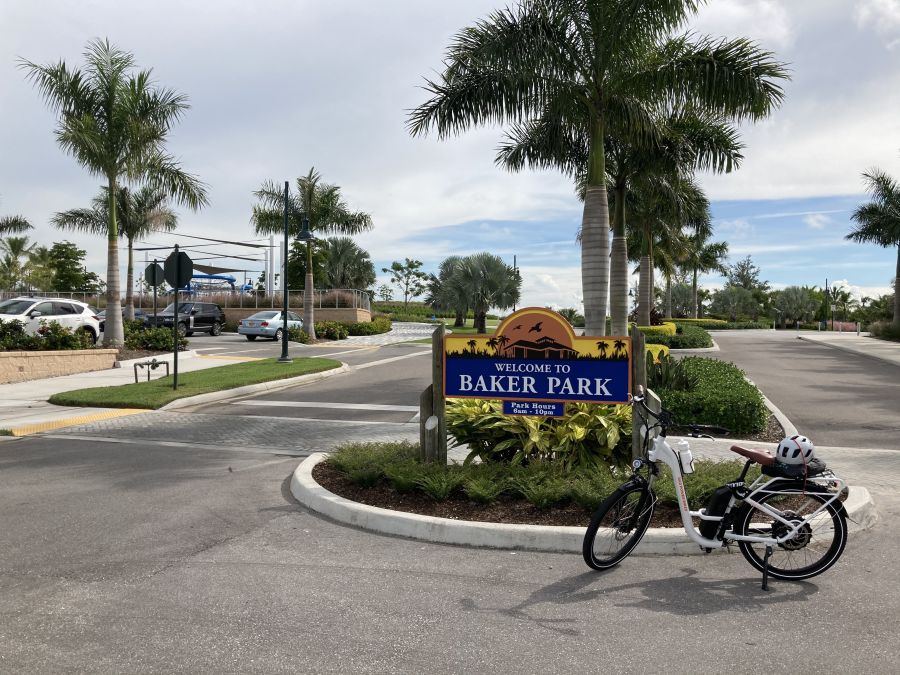 Baker Park is a beautiful riverfront park along the Gordon River in downtown Naples that spans about 1.3 miles. There is so much to offer including a kayak launch, outdoor fitness facility, a sunrise terrace overlooking the river, a grassy knoll, pathways with picnic shelters, playgrounds, and a pedestrian bridge over the Gordon River. Once you cross over the bridge you can connect to Gordon River Greenway to extend the ride through another 2.5 miles of asphalt, mulch, and boardwalk trails through six different native plant communities. Baker Park is located on Goodlette-Frank Rd S and Central Ave. If you want to avoid the hassle of US 41 and the major intersections when coming from downtown Naples, just take any of the side streets headed South to connect to Central Ave where you will head East and end at Baker Park entrance.
Bayfront Place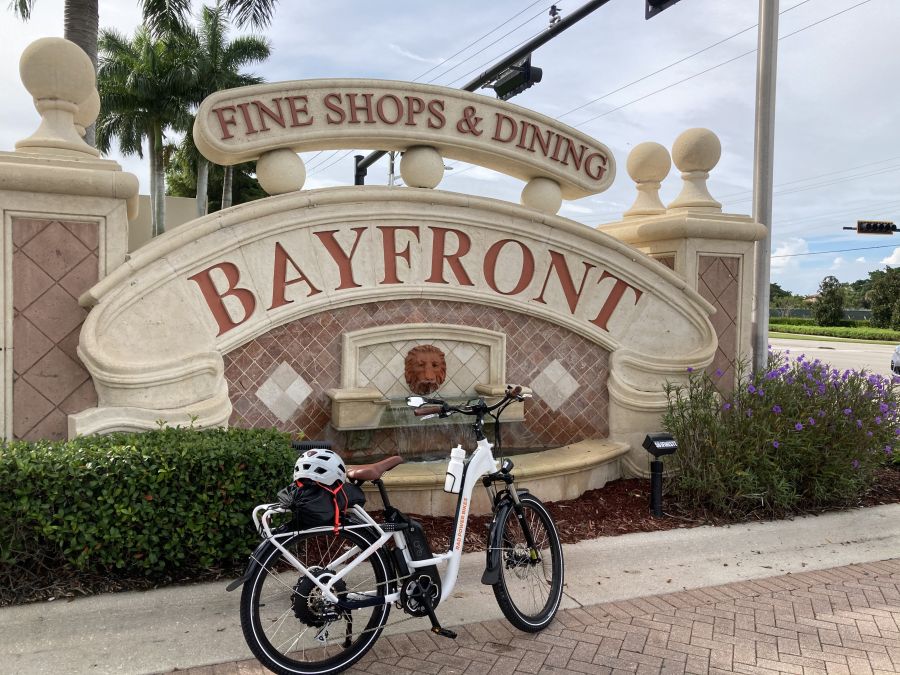 Strategically situated in the middle of so may hot spots, Bayfront is Located on Naples Bay across from Tin City on US 41 and just a couple of blocks from Fifth Ave S, as well as Baker Park which is just south on Goodlette-Frank Rd to Central. Strolling or riding along the brick-laden pathways, you'll find galleries and shops coupled with cuisine options ranging from informal to lavish to satisfy any mood or time of day.
Helpful Tip
Use the under-bridge path to cross US-41 to reach Tin City and 5th Ave South instead of crossing the road. Locals enjoy meeting for a beer at the outdoor Shane's Cabana Bar overlooking the waterfront.
Other Places to Ride