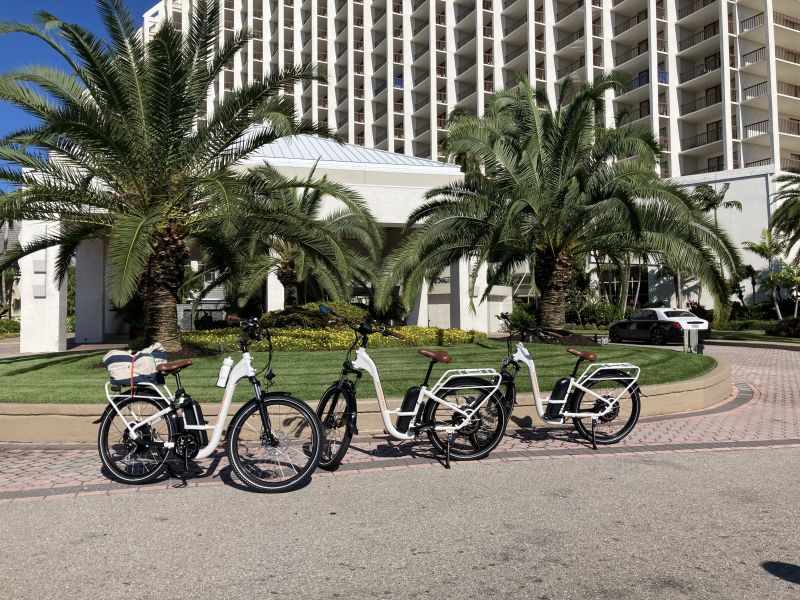 The Midtown and Park Shore area of Naples is perfect for riding with safe bike trails and plenty of bike accessible locations. From luxury beach resorts and quaint beach access points to popular open air malls for shopping and dining, Midtown Naples has it all! The beauty of the communities you'll ride through exemplifies the charm and luxury that Naples is known for and riding a bike allows you to take it all in with more flexibility and sense of adventure.
Launch Map
Bike Trails & Points of Interest
Riding through Midtown Naples is all about the backroads. Avoiding the major streets, like US 41 and Pine Ridge Road, will enhance the ride and help keep you safe.
Below we outline the top spots in the area with an emphasis on low traffic, bike-friendly streets with dedicated bike lanes.
Helpful Tip
It's not uncommon to see bikers using sidewalks when encountering busy streets or intersections. Utilize the buttons to cross streets at intersections with cross walks and follow all signage to remain safe.
When riding on sidewalks or in crosswalks, a bicyclist has the same rights and duties as a pedestrian.
A bicyclist riding on sidewalks or in crosswalks must yield the right-of-way to pedestrians, and must give an audible signal before passing.
Pelican Bay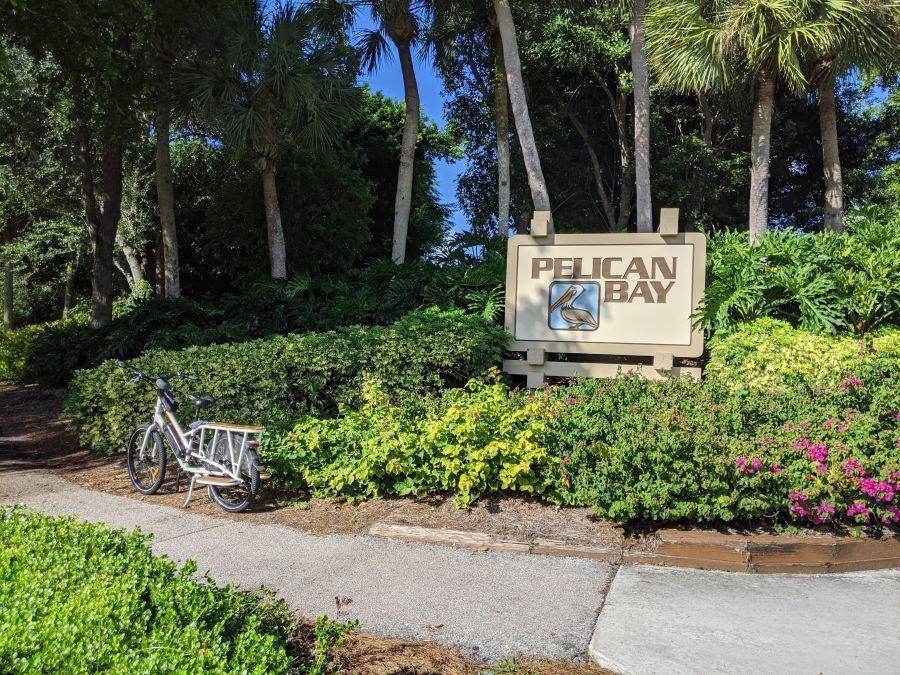 Pelican Bay is one of our personal favorite areas to ride. It's situated between two world-class beach resorts, The Naples Grande Beach Resort at the southern end, and The Ritz-Carlton Resort on the north end. Pelican Bay represents the ultimate Naples lifestyle and is home to approximately 95 distinct and luxurious residential enclaves. Riding through this lavish community of lush landscaping and high rise condos is enhanced by the comfort and safety you feel on these bike friendly streets.
There are double lanes for both sides of traffic and the shared lane markings on the outside lanes, guiding cyclists to the safest part of the road and reminding drivers to share the streets. It's truly an ideal place to ride and connects you to some of the best hot spots in Naples without having to take US 41. The access point coming from the North off Vanderbilt Beach Rd is North Pointe Dr. which will take you to Pelican Bay Blvd. Take a right at Pelican Bay Blvd and enjoy the 2-3 mile ride until your reach Myra Janko Daniels Blvd. Take a right here and continue for a mile or so until you reach Seagate Dr. From here, the Waterside Shops are immediately on your left or take a right on Seagate and go to Clam Pass or the Naples Grande Resort.
Clam Pass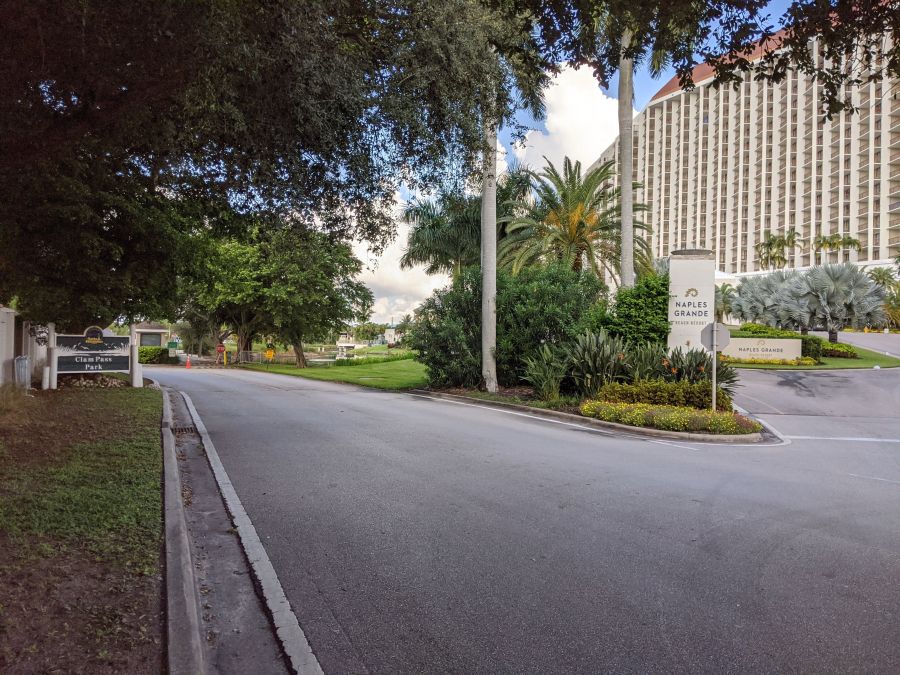 Class Pass is one of the most popular beaches in Naples due to the 3 miles of white sand, scenic boardwalk, and amenities such as canoes, kayaks, and other water sports equipment. Naples Grande Beach Resort utilizes Clam Pass for guests as well, so you'll notice their operations and restaurant at the end of the boardwalk as well as snack bar and restrooms open to public.
When you arrive, there is a bike rack in the back where you will see the pavilion in order to wait for the tram. You can either take a 5 minute open air tram ride through a 200-acre protected Mangrove Estuary or a 15 minute stroll to the beach along the half-mile boardwalk.
Helpful Tip
Join a Conservancy of Southwest Florida volunteer Naturalist for a free guided walk on the boardwalk, beach, and back bay areas of this beautiful Collier County park to learn about the secret lives of the flora and fauna of this captivating and biologically-rich area. These guided nature walks are held Monday through Saturday @ 9am from December to April.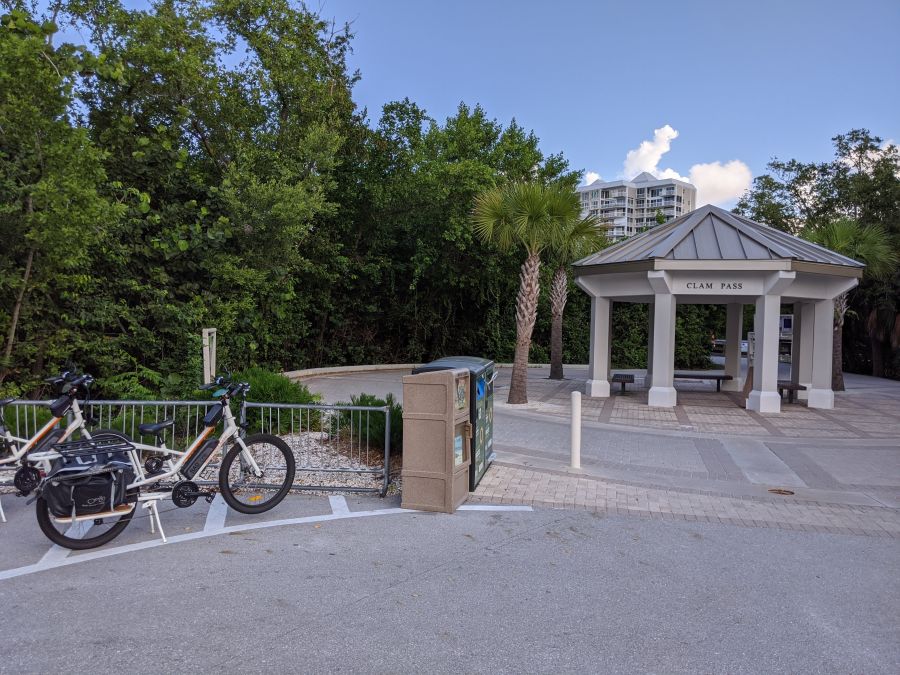 Naples Grande Beach Resort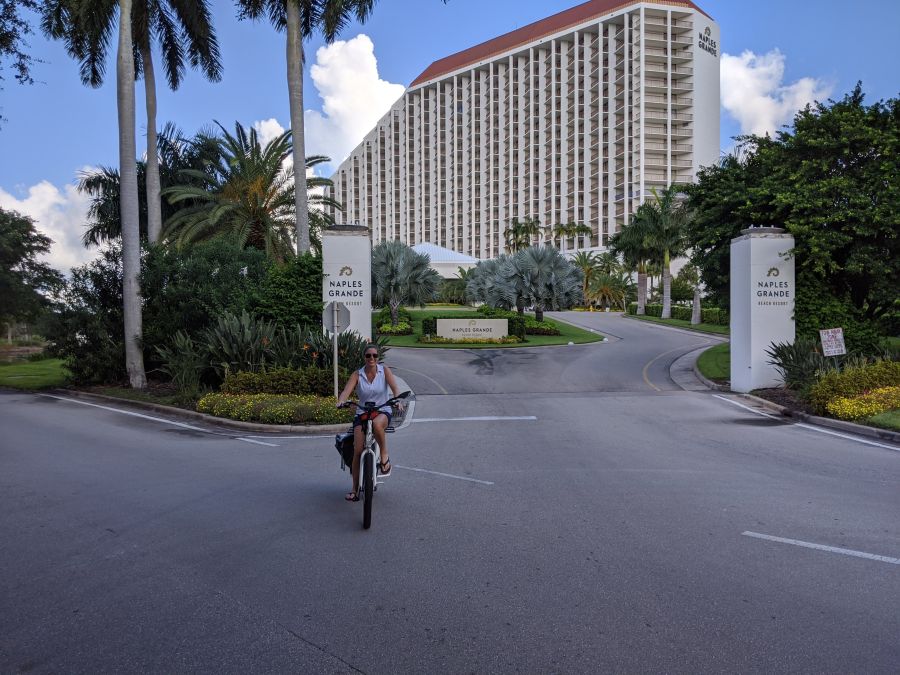 Naples Grande Beach Resort is located on 23 waterfront acres of Florida's Paradise Coast and features 5 restaurants and lounges. The beachfront restaurant, Rhode's End, serves Mediterranean cuisine with Gulf of Mexico views and ice cold drinks. Swing into Spressi Marketplace in the lobby for a quick grab and go style meal, specialty coffee, or a gelato.
Waterside Shop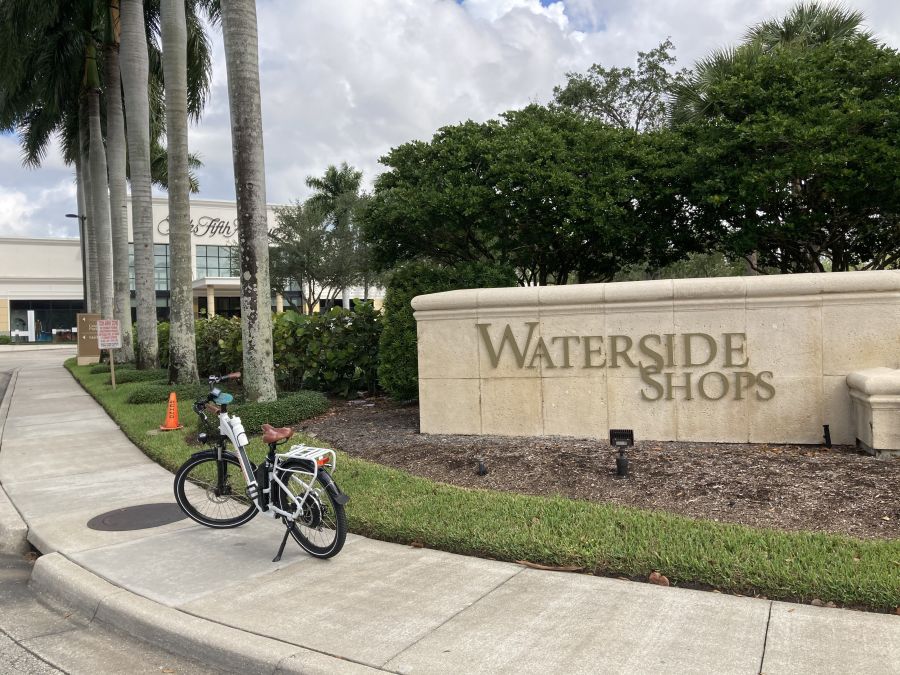 A visit to Waterside Shops is a must for a shopping enthusiast! This picturesque open-air shopping and dining destination is set amid a lush landscape of tropical plants, flowering shrubs and water features throughout. It is home to more than 60 shops and restaurants, making it a perfect spot to enjoy great food, sunshine—and of course some retail therapy.
If coming from the North, avoid the traffic on Tamiami Trail / US 41 by taking Pelican Bay Blvd to Ridgewood Drive which will take you to the garage parking behind Tesla. Coming from the south, take Crayton Road to Seagate Drive to enter by Saks Fifth Avenue. There are bike racks located throughout the parking areas including by the stairs in each garage.
Crayton Road
Crayton Road is the best artery to take you from Midtown to Downtown quickly or vice versa while avoiding US 41. It will also allow you to hit a few spots like Venetian Village, Lowdermilk Park, and Naples Beach Hotel along the way. While Crayton Road does not have designated bike lanes consistently throughout the ride, it's a bike friendly street with a scenic ride through town!
The City of Naples believes in supporting cycling as a healthy form of exercise and a great way to get around town, so you'll notice the new 20 foot green bike lane panels have already been installed at the main intersection locations in these areas: Gulf Shore Blvd N and Park Shore Drive, Crayton Road and Park Shore Drive, Harbour Drive and Gulf Shore Blvd N, Harbour Drive and Crayton Road.

The Village Shops on Venetian Bay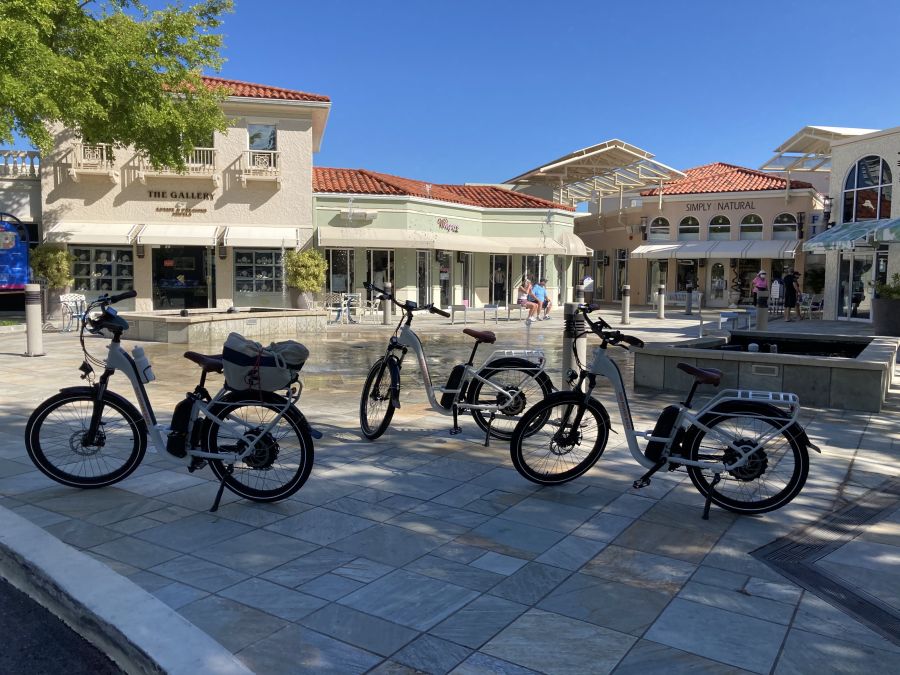 The Village Shops on Venetian Bay is a waterfront complex with a high-end feel offering 45+ boutiques & restaurants with outdoor seating. It is located on Park Shore Dr. which can be accessed via Gulf Shore Blvd N or Crayton Road. The Village straddles Park Shore Dr., so be sure to check out both sides of the street in order to take it all in! There are bike racks on either side as well as a pedestrian walkway and drive through that connects the two sides by going under the bridge.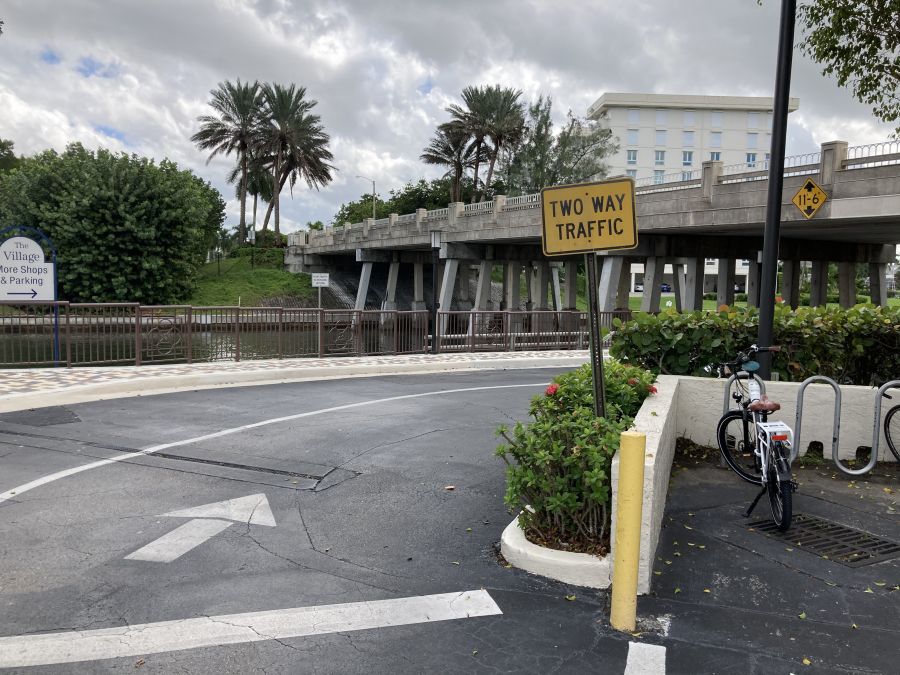 Gulf Shore Blvd N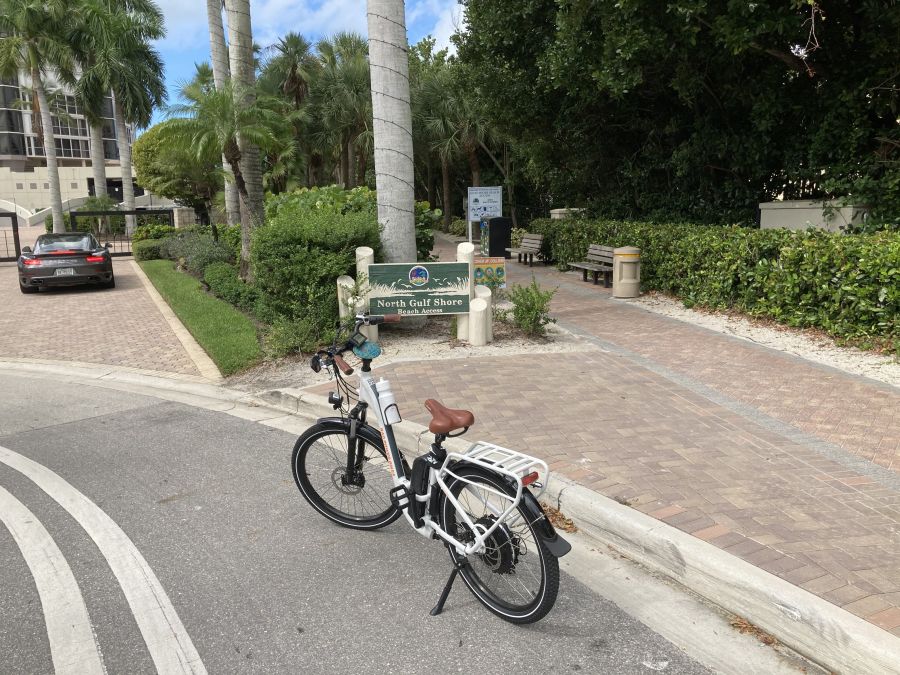 Gulf Shore Blvd North is a four mile stretch of road that runs from the very end of Seagate Dr. to Central Avenue, at which point the road changes to Gulf Shore Blvd South. There is a break in Gulf Shore Blvd N just after Harbour Drive, so you will not be able to continue as this is where Moorings Bay connects to The Gulf of Mexico via Doctors Pass. If you'd like to extend the ride, you can head East over the bridge at Park Shore Dr. by Venetian Village or Harbour Drive to connect to Crayton Rd. This will lead you to Mooring Line Drive which will continue back to Gulf Shore North and extend to South.
There is a beach access point at the Northern tip of where Seagate Dr. ends and Gulf Shore Blvd N begins called North Gulf Shore. Coming from Seagate, this is not an outlet for cars, but perfect for bikes! There are numerous beach access points on Gulf Shore Blvd N, but if you are looking for facilities, head to the Southern side of Gulf Shore Blvd by using one of the above mentioned cut throughs where you'll find Lowdermilk Park.
Lowdermilk Park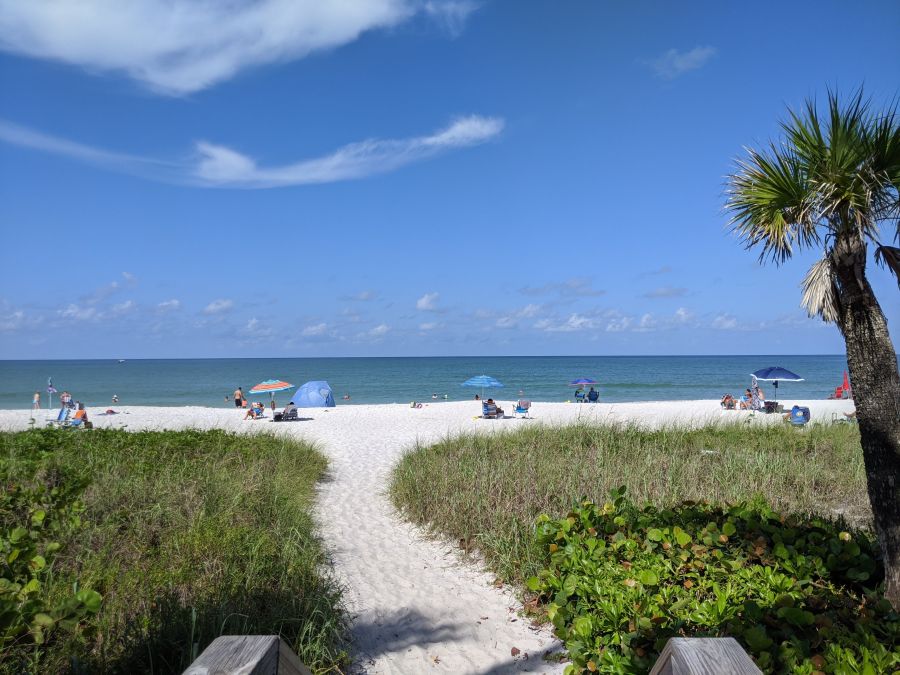 Lowdermilk Park is located just off Gulf Shore Blvd North and is one of the top beaches and parks in Naples. There is plenty to offer including a concession stand, sand volleyball courts, two children's playgrounds, picnic tables, benches, restrooms and shower facilities. Beach equipment rentals including standup paddle boards and kayaks are also available.
Other Places to Ride